Stop Line 3 Remote Actions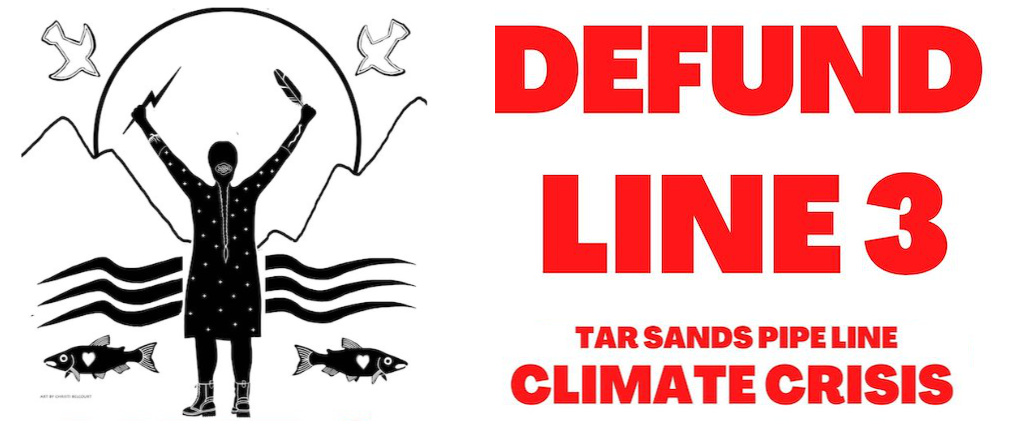 Indigenous Allies have called on allies to take action this week, as they mount pressure against Enbridge and the financiers of Line 3.
Please watch this three-minute video for background information on this struggle for human dignity, human rights, and our common human future:
Video: The Years Project
What can you do? 
Join us in taking direct action!
Why Line 3?
The Stop Line 3 campaign is being organized by indigenous matriarchs. If built, Line 3 would destroy the sacred wild rice beds that the Anishinaabe people depend on for their food, culture and way of life. 
Line 3 would contribute as much damage to our climate as 50 new coal-fired power plants, and it would endanger more than 800 wetlands and 200 waterways.
The Red Lake Nation, the White Earth Band of Ojibwe, and Mille Lacs Band of Ojibwe, MN's Department of Commerce, environmental organizations, and 13 youth intervenors are all currently challenging the legality of Line 3 in court.
More than 240,000 people have signed a petition demanding that President Biden take Executive Action to stop Line 3. On Feb 2nd, Rep. Ilhan Omar wrote to President Biden demanding the same. Four days earlier, more than 600 people took to the streets of St. Paul, demanding an end to the pipeline.
Best-selling novelist and member of the Turtle Mountain Band of Chippewa, Louise Erdrich wrote in the New York Times: "[Line 3] is is a tar sands climate bomb (…) The state's environmental impact assessment of the project found the pipeline's carbon output could be 193 million tons per year. That's the equivalent of 50 coal-fired power plants or 38 million vehicles on our roads."
Camps of temporary workers were cited in a Line 3 Environmental Impact report to specifically pose the risk of sex trafficking of Indigenous women. "The addition of a temporary, cash-rich workforce increases the likelihood that sex trafficking or sexual abuse will occur," the environmental impact statement said. "Additionally, rural areas often do not have the resources necessary to detect and prevent these activities."
In recent months, more than one hundred and fifty people have been arrested for taking direct action to stop the pipeline construction: chaining themselves to pieces of pipe, sitting in trees in the path of construction, locking themselves by their necks to excavators and placing pianos in the way of construction.
What Now?
Responding to the call from Indigenous women leaders to Stop Line 3, Extinction Rebellion US members are traveling to the frontlines with water protectors on Anishinaabe land in Northern Minnesota, and Extinction Rebellion chapters all over the country are taking direct action in their local areas to demand that the financial backers of Enbridge, the company building the pipeline, withdraw their support and divest from fossil fuels. The XRSFBay chapter is conducting actions in solidarity with an escalating Stop The Money Pipeline campaign to create mounting pressure on funders.