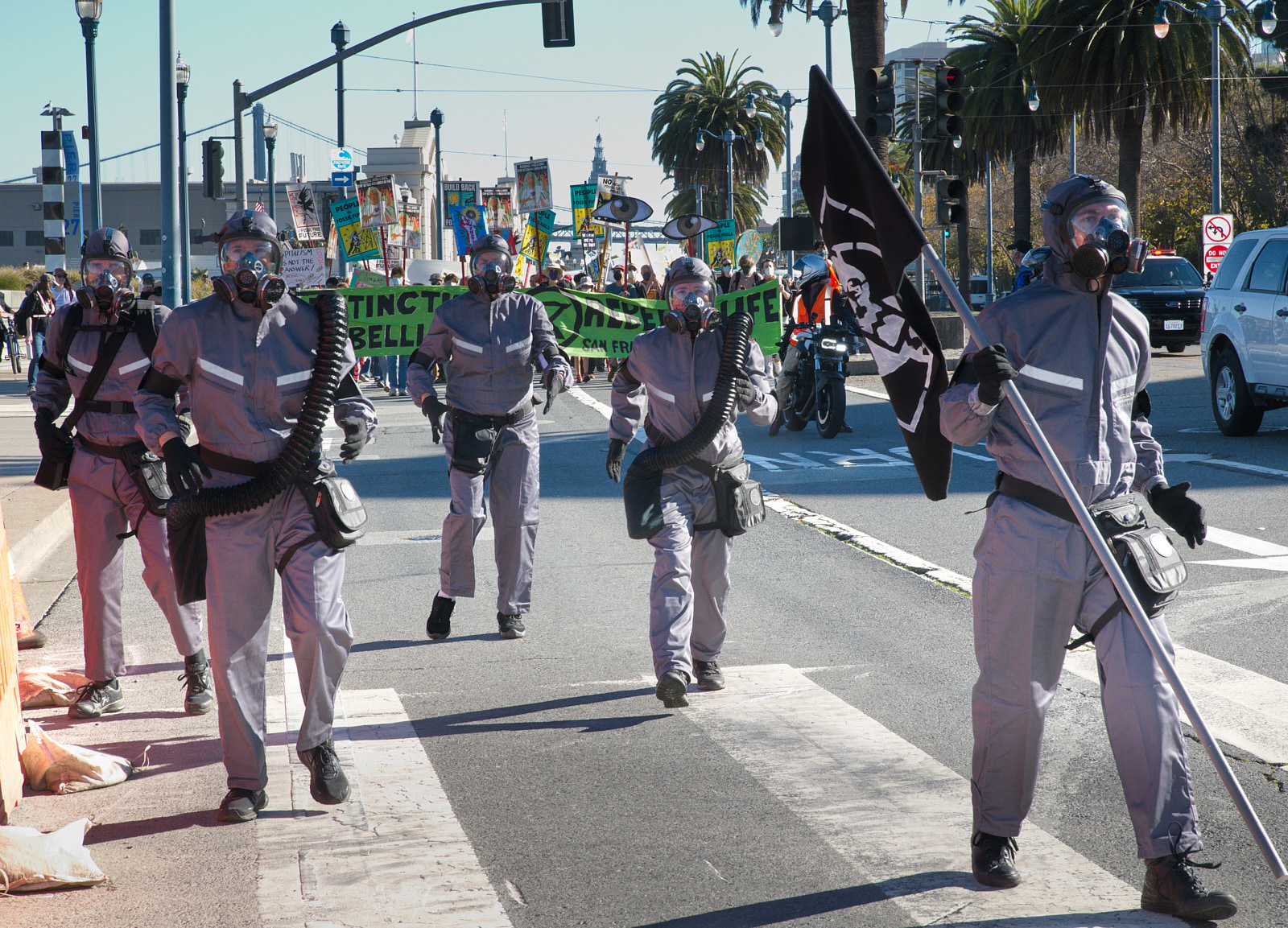 Extinction Rebellion uses street theater to share our message and our vision of collective transformation with the public during actions. We aim not only to inform the public about the climate crisis, but to bring to the surface the pain and peril of our present ecological situation by means of expressive communication. Our street theater troupe seeks to embody the different forces at work in our changing world through myth, drama, and symbolic action. To get involved, mail us at theater@xrsfbay.org.
Turquoise Rebels
The Turquoise Rebel Brigade are silent figures cloaked in turquoise robes. The color turquoise represents the Earth's rising seas, but also the sea's clarity and purity and the sky we wish to see again in a post-fossil fuel era. Turquoise is said to be the color of equanimity and good humor.
Turquoise Rebels are XRSFBay's interpretation of the Red Rebel figures present in global XR groups. The Red Rebel Brigade originated in the UK, a collaboration between XR and Bristol's Invisible Theater in 2019. Since then, Rebel Brigades have emerged around the world.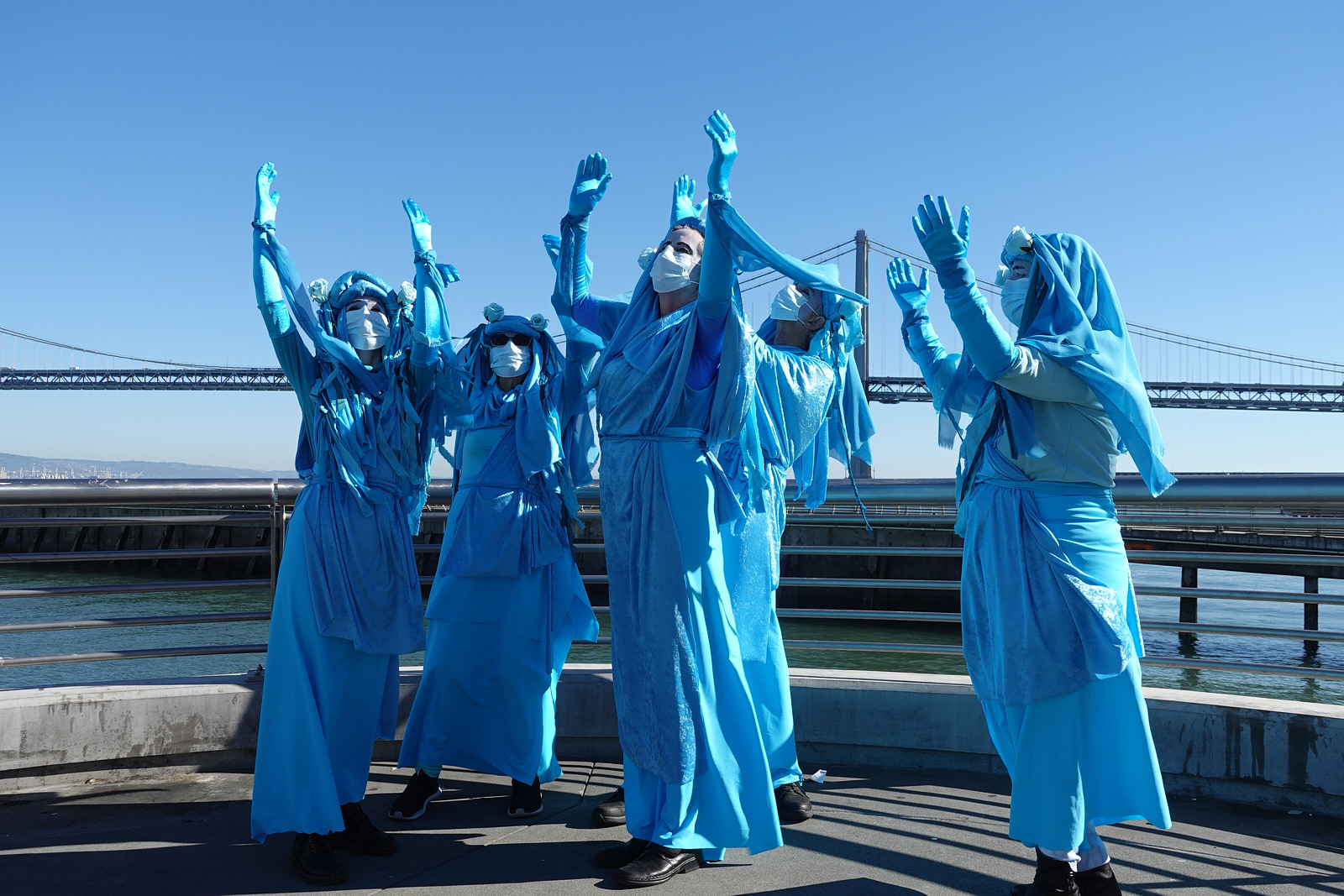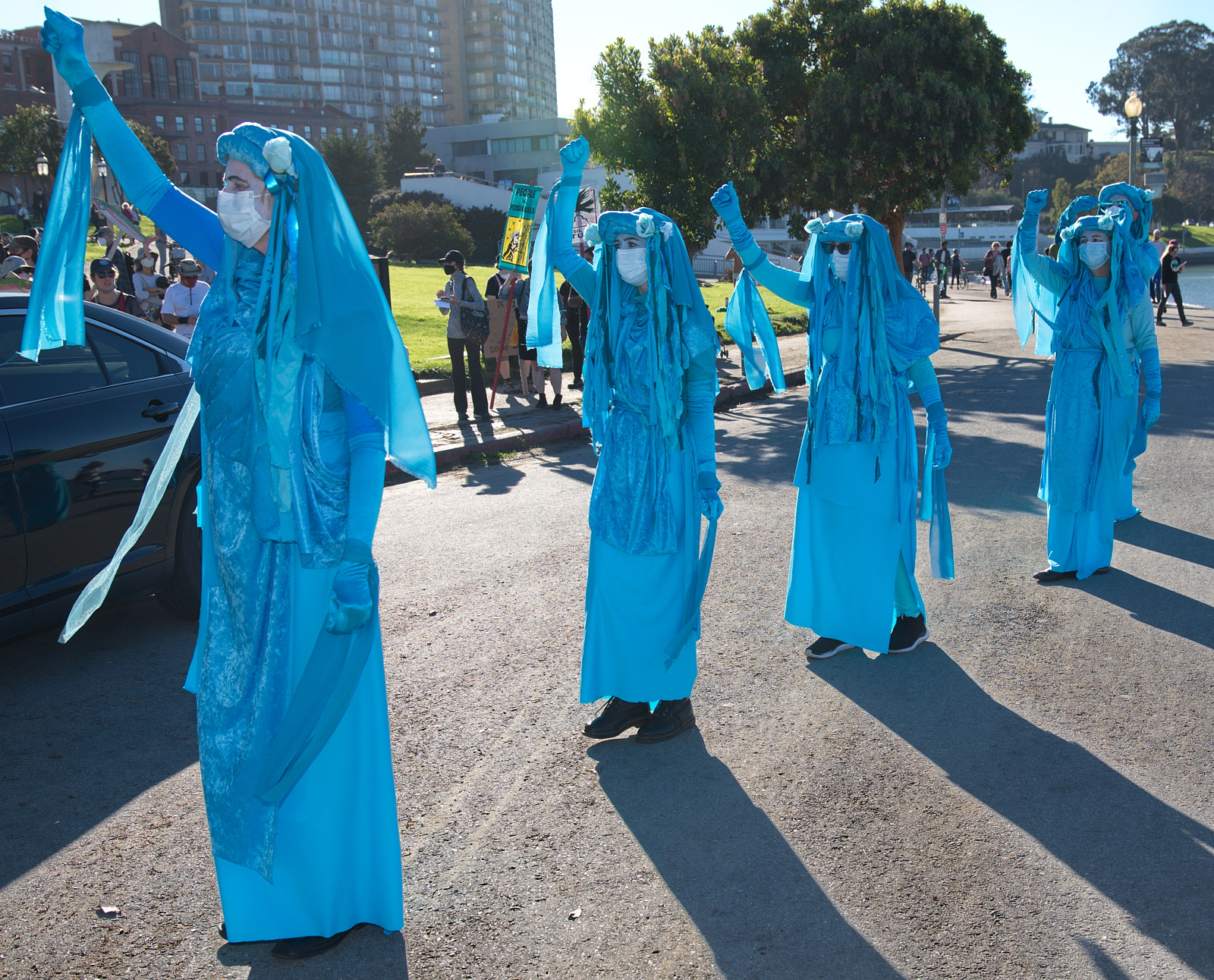 Xtractors
XR SF Bay's dystopian "Xtractor" characters represent the systemic greed of predatory, extractive capitalism. Dressed in gas masks and grey hazmat suits, they roam through a world filled with dangerous manmade hazards, seeking new resources to exploit. Their costumes bear the logo of a skull being fracked, and their mantra is the phrase: "EXTRACT CONSUME DENY." Xtractors move in an staccato, robotic, and glitchy manner, as if they are about to malfunction - as if something inside or around them is unraveling or imploding. Behind their gas masks and mechanicity is a desperate, suffering human core. The Xtractor characters originated as part of an XR SF Bay "die-in" during the fall of 2019 and our street theater group has been developing them since.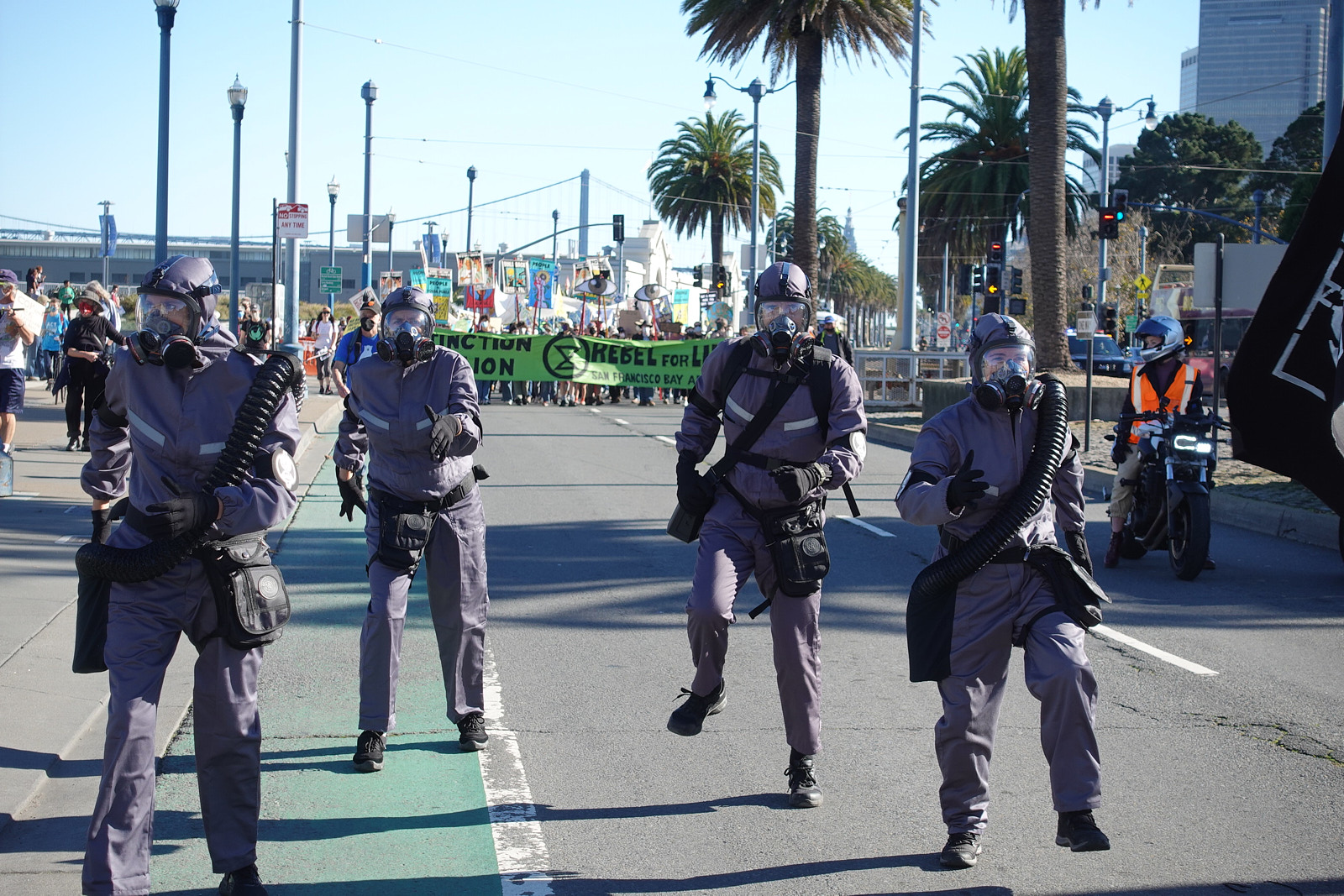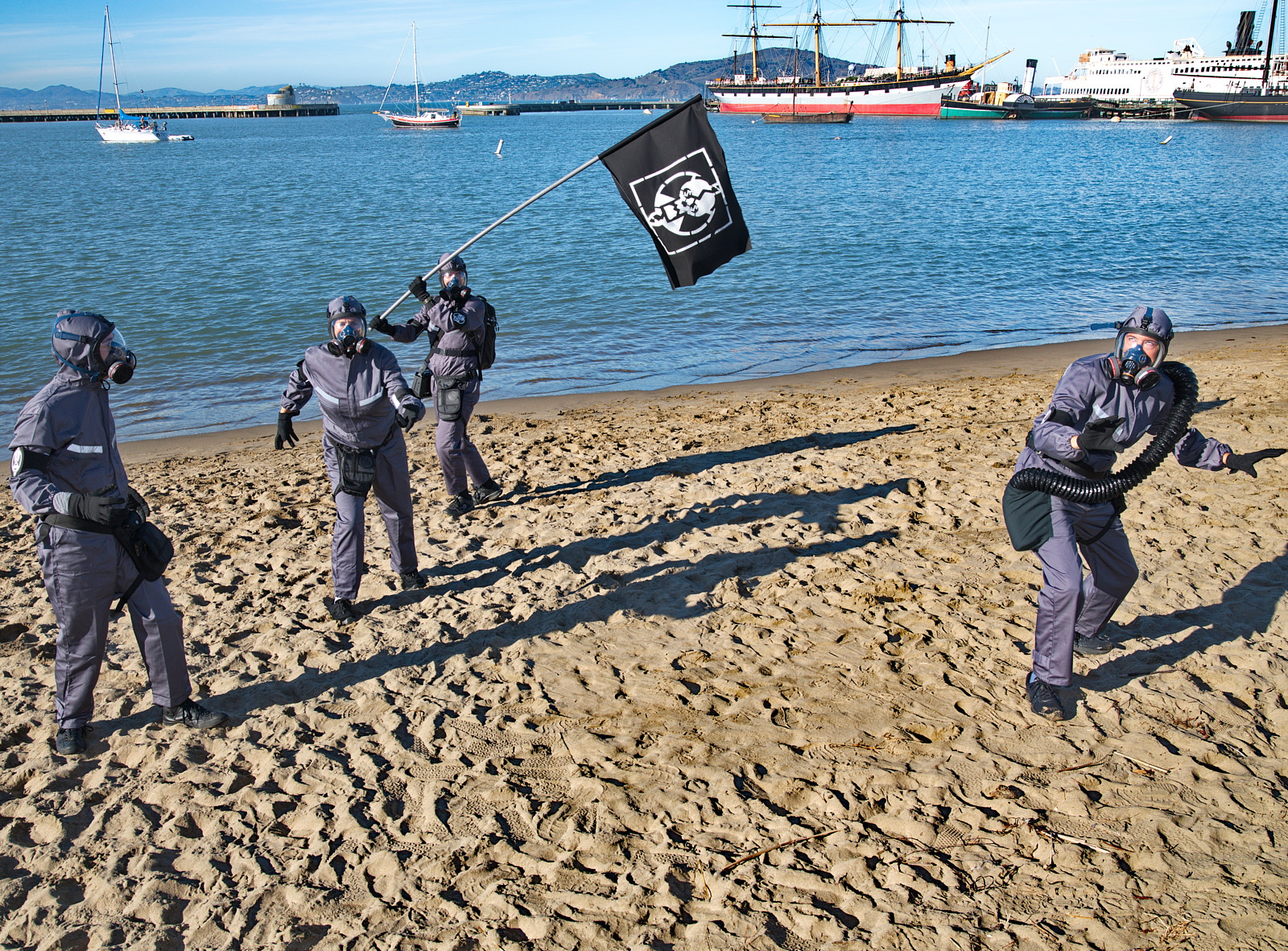 Lamentors
Lamentors are somber and silent, dressed in burlap smocks with white painted faces. They move slowly, in a ritualistic mode, holding signs that spell out the tragedies they mourn: "Crop Failure", "Mega Fires", "Compulsive Consumption", "Mass Extinctinon," etc. Lamentors externalize the hidden collective grief our culture is experiencing in the face of the calamities that come with fossil-fuel funded climate chaos. XR SF Bay's Lamentors were inspired by costumed figures present at a series of XR actions in Cornwall during the summer of 2019.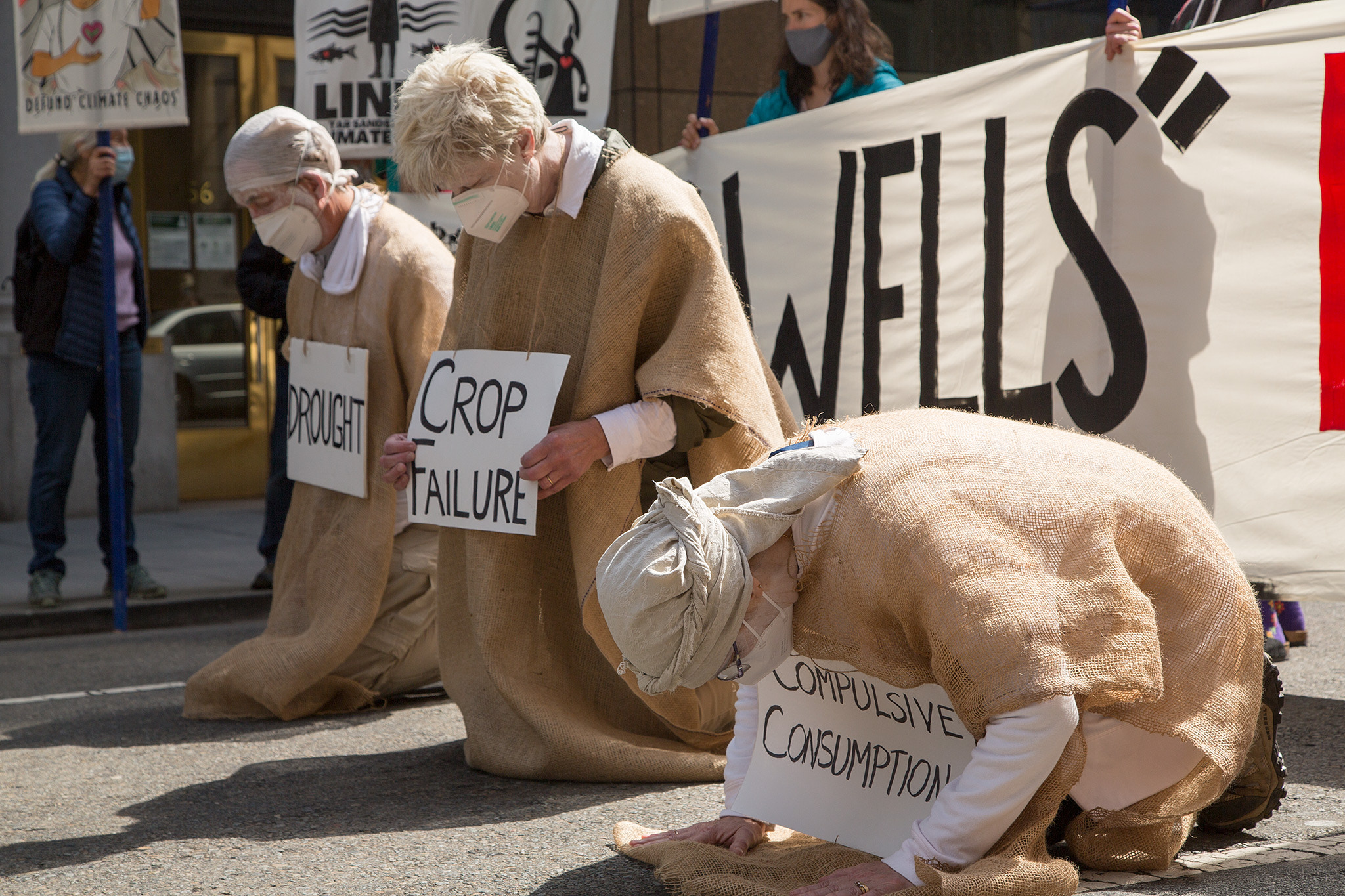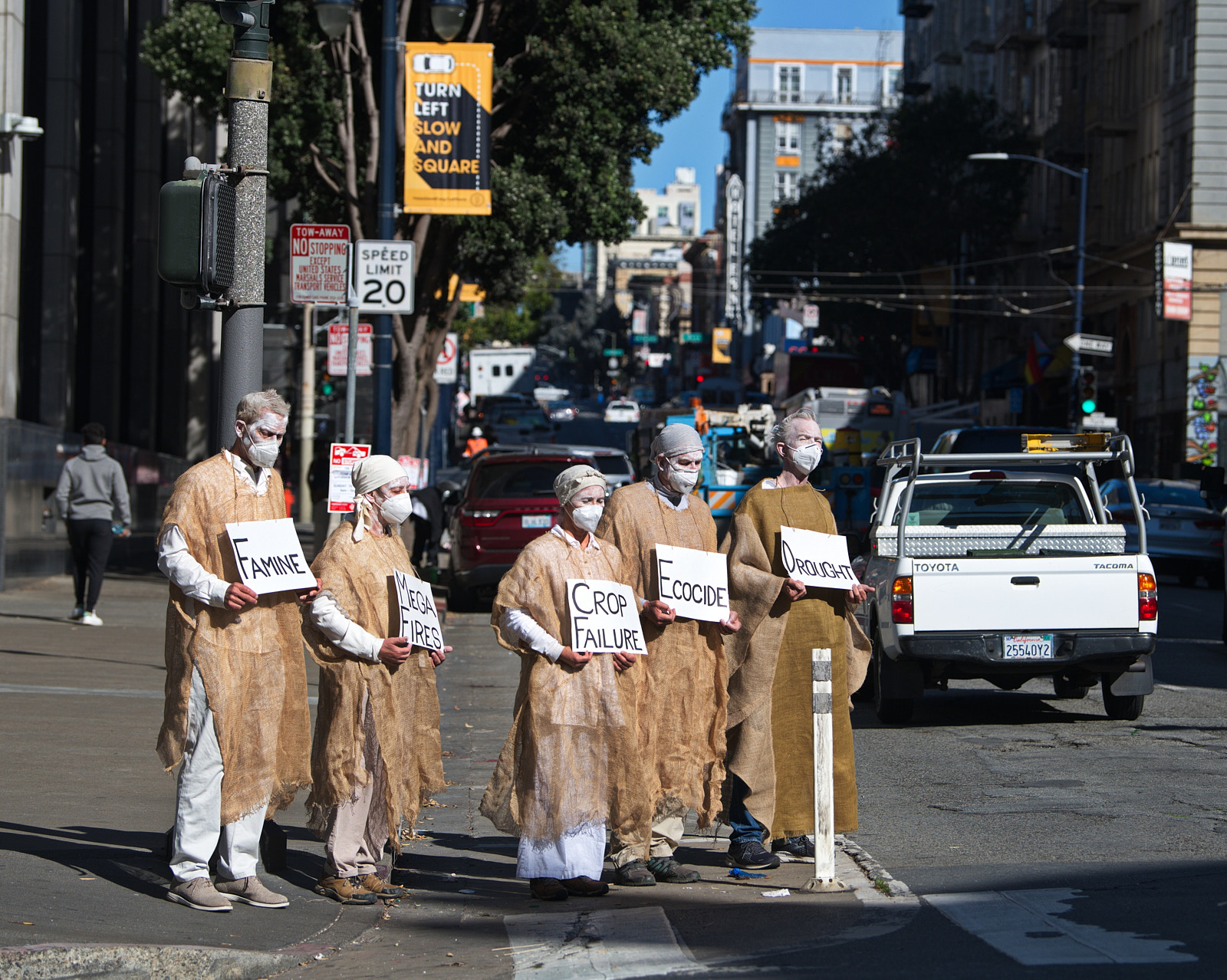 Glammonites
The Glammonites represent materialism, consumerism, and the delusion that shiny new things will win us happiness. "Glam" (extravagantly showy fashion) + "Mammon" (false god of greed and material wealth) = "Glammonite." The Glammonites wear metallic face makeup and flashy-trashy outfits (e.g., gold tuxedo jackets, fake fur coats, metallic leggings). They accompany the Xtractors liek remora fish on the backs of sharks, grooving and bopping along to the Xtractors' dystopian soundtracks. The Glammonites fixate on clothes worn or objects held by passersby or spectators, ad-libbing things like: "Omigod! What is that?! That is so amazing! Where did you get that?! I want that! How much was that? Can I touch it? Can I hold it? Oh come on, come on, please, just let me hold it for a second… I'll give it back! I think. Hahaha!"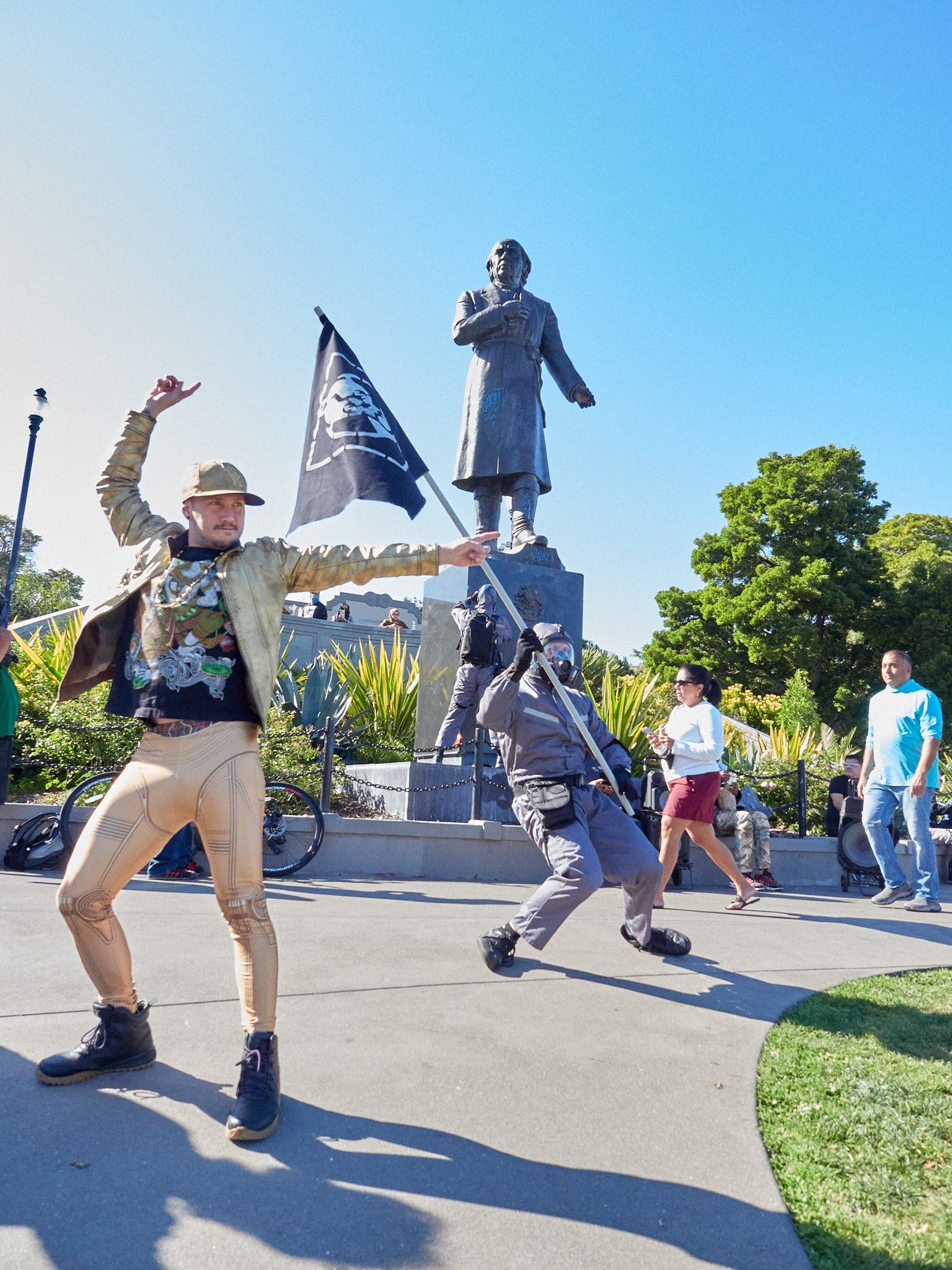 Get Involved
For more information about XR SF Bay's theatrical troupes, reach out and drop us an email at theater@xrsfbay.org.
Extinction Rebellion is a 100% non-violent civil disobedience movement aimed at nothing less than radical system change. Our rebellion is fueled by our love for humanity and for all life on earth.